Pécs Clinic – mechanical louvered ventilation and giant louvered shades
SYBA louvered mechanical ventilation was placed in front of the clinic's building mechanical equipment, and fixed, clip-on Ellipsun giant louvered shades were placed in front of the building's glass surfaces.
At the 400-bed clinic in Pécs, the large amount of textile shades placed hidden under the installed facade covering was more of a challenge, while the design, construction and installation of the architecturally prominent unique framework of the unique E300 lamellar system of the K facade was a serious task. Our consoles had to be installed before the cladding, and then after the facade was formed, there was minimal time available to install the frame and slats.
The slats can be rotated with a motor.
On the roof, a 120Z lamellar mechanical wall had to be built around the mechanical engineering in such a way that the roof insulation could only be broken through at a few points, most of the columns stand freely on a concrete slab.
Since the building is very tall, based on the wind pressure values ​​according to DIN, an upper mooring had to be installed in the end, but time has shown that the construction has become statically adequate, instead of the galvanized mechanical elements, an aesthetic powder-sprayed lamellar surface can be seen from several points in the city.
Our products used in this project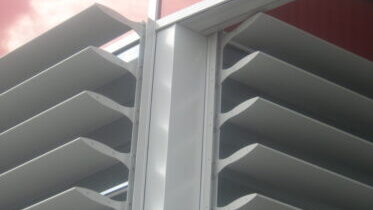 Shades with Ellipsun fixed clip or end element attachment